Hiring Engineers is a hard problem — there's a shortage of good talent and the demand is incredibly high. Recruiting usually entails putting out job ads, going to meet ups, hiring recruiters, begging friends for introductions, dozens of interviews. It's an incredibly inefficient process that can take months and cost you tens of thousands.
We're excited to release Sourcing.io, a service that lets you find and hire the most talented engineers in just a few clicks.
What we do
We're a search engine for discovering engineers — we've indexed about four million engineers on GitHub, StackOverflow and other places. You can search, cut and slice that data to find the exact talent you're looking for.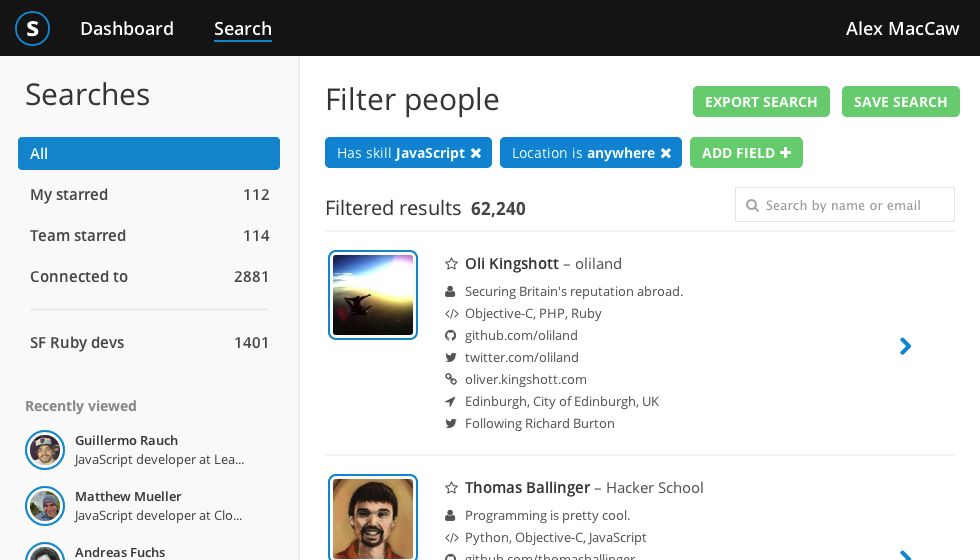 ---
Filters
When hiring engineers, you'll probably have some set criteria in mind depending on your software stack, size of company and location. Sourcing.io lets you filter by those criteria so you can find good matches. Since we're specifically geared towards finding programmers, we can afford to have some pretty engineering specific filters and deep GitHub integration.
For example, you can filter by all Ruby engineers in San Francisco who've published a RubyGem and work at a funded company. Or all engineers that program iOS and have contributed to the AFNetworking GitHub project.
However the real power of Sourcing.io is in combining social connections; getting a direct referral is without a doubt the most effective form of recruiting. Sourcing.io lets your team members connect Twitter, GitHub and LinkedIn accounts, allowing you to filter by candidates connected in some way to your team. It's basically an eagle-eye view of your company's entire social network.

---
Details
Once you find a few potential candidates, you can drill into their information and bring up key pieces of data, such as the company they currently work for, their blog URL, GitHub repositories, or published packages such as RubyGems.
Again, the key aspect here is revealing social connections. If someone in your team is connected to the candidate, say the candidate follows them on Twitter, we'll surface this information. Needless to say, getting a direct referral from someone the candidate is connected to converts much higher than a cold email.

---
Collaboration
Recruiting isn't something that should just be done by founders, or by recruiters. It's a process your entire engineering team should be involved in from the beginning — they're best at evaluating candidate's code, skills and cultural fit.
We've provided features to make this possible in Sourcing.io. You can invite your team to 'star' and discuss candidates they like, in one place, as soon as they are found. We even have an activity feed that surfaces all this information.

---
Mission
We see ourselves as in the company building industry as much as in the recruiting industry. Helping to potentially create great companies is more than enough incentive for us and we're really excited about Sourcing.io's future.
If you're hiring engineers, we encourage you to check Sourcing.io out. We offer a week free trial so you can test the service before making any commitments.
Thanks,
Alex and Richard